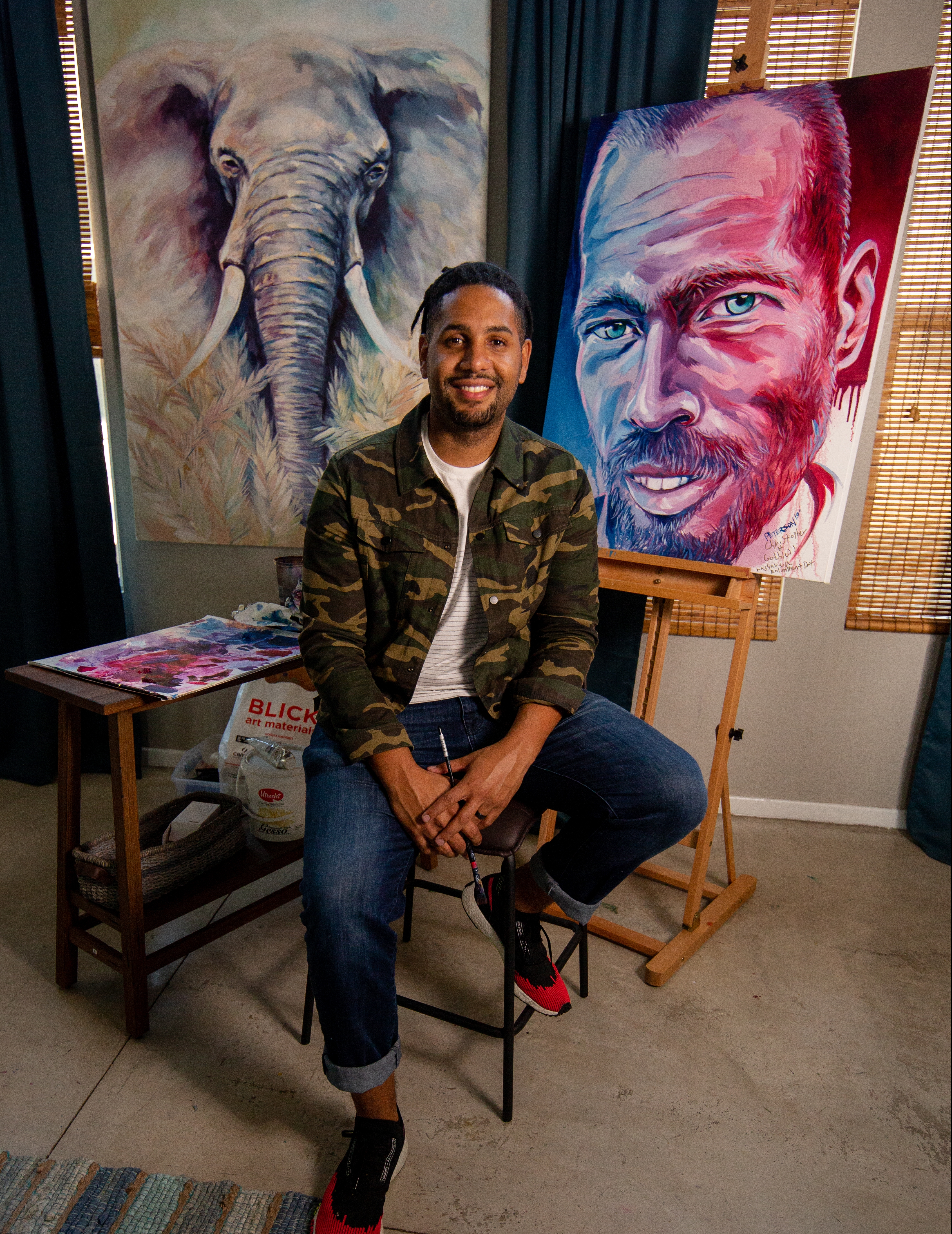 Written by Reed Grable
Photos by Sabrina Claros and Robert Thornson
Brian Peterson, 32, takes his brush and quickly makes a brown stroke across the canvas. He moves to the other side, eyes it, and stands back. "Vanessa, you think I still got to fix his eye?" He asks his wife, who's sitting at a nearby desk. "Yeah," she responds. Peterson takes a brush with white and dabs out a bright blue eye. "I think I can fudge it. Y'all are gonna watch me make a mistake," he says, laughing. An eye slightly hidden behind large black glasses suddenly comes to life and stares directly at him. Peterson adds one more sparkle to the subject's other eye to make it pop. He stands away from it, takes it in, then signs it, Peterson '19.
Peterson just completed his first portrait of the year for his organization Faces of Santa Ana. Jonathan Pope, a man in his mid-30's, suffering from intense acid-reflux and currently living in a Santa Ana shelter, was Peterson's first subject. The painting has a realistic quality to it, featuring natural tones, and Pope eyeing his viewers with a jovial smile. The piece took Peterson about four hours to complete; he paints in quick strokes, so the paintings have an energy to them and come to life. "We're just trying to find the essence of who they are, because most of the time they've forgotten," Peterson explains.
Faces of Santa Ana is an artistic non-profit founded by Peterson four years ago to capture the true essence of those homeless in Santa Ana. With over thirty paintings completed, Peterson has had a strong painting career in servicing the homeless. Peterson's ultimate goal is to expose the vibrance and dignity that's most often hidden beneath the stigmatism associated with the homeless. "What would it look like to see who they were created to be? Because no one was created to be a heroin addict, or a drug dealer, or whatever, you know?" — it's essential for him to unearth their true characters beneath any turmoil they've experienced.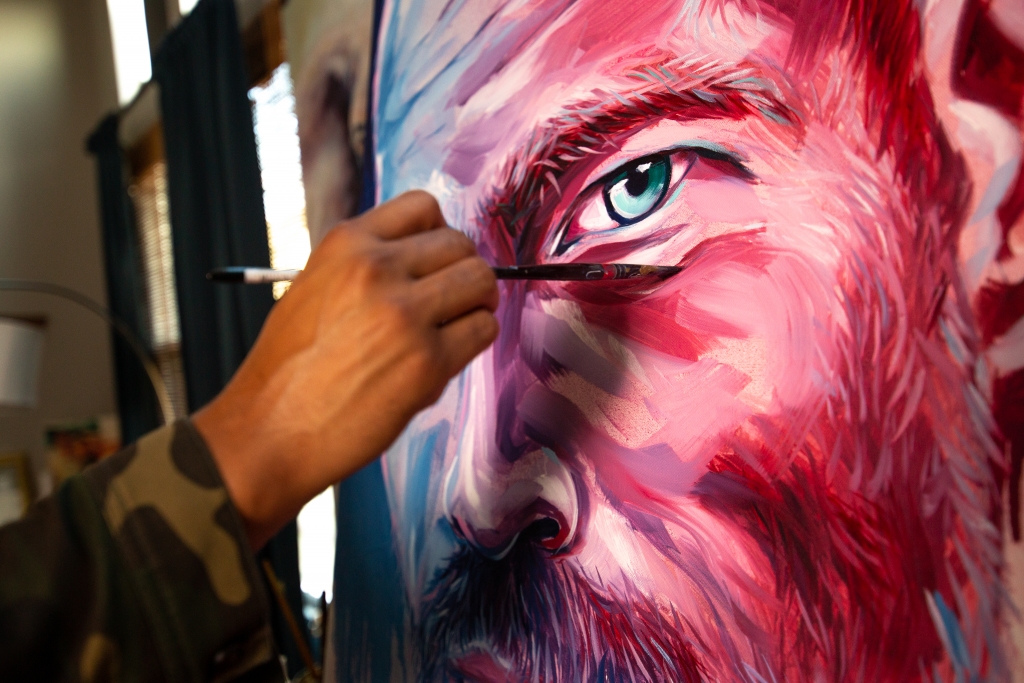 The project came about almost out of the blue. Peterson spent over eight years not painting; he stopped painting after his first year at the Cleveland Institute of Art. He opted for a degree in industrial and automotive design, as opposed to a fine arts degree, because he worried about student debt. He currently works as a senior automotive/interior designer with Kia Motors in Irvine. However, Peterson reflects that "deep inside me there was always this yearning to do that child-like thing I loved so much, which was painting."
About two years out of college, Peterson built and stretched an eight-foot canvas, but he never painted on it. He travelled from Michigan, to California, moving from house to house, with this canvas bare and bleak. He would leave it blank in his living room, terrified of ever starting a project on it. "It was literally this elephant in the room in my life," he says. Then one day, after years of having this passion of his stare at him with a blank face, and a week before his first portrait for Faces of Santa Ana, he went to a church service and the pastor was saying, "'Always address the elephant in your room in your life. Whatever that thing is in your life that's too big to tackle, too intense. Attack it, run after it, challenge it."
Peterson motioned to a large canvas hanging near us as we talked, "So, I went home that night, and I started painting this elephant." The elephant was powerful in looks, but had a forgiving essence in its color and eyes. "I painted this elephant as a reminder to always address the elephant in the room."
The elephant in the room? Or, rather, Santa Ana's room? — "Homelessness," Peterson says.
A week later, Peterson became inspired while reading Love Does by Bob Goff. The book asks, what does it mean to love those around you unconditionally? As Peterson read this book, he suddenly heard screams outside his Santa Ana home. Considering the unconditional love the book says to profess, Peterson decided to approach this man. "This day was different, because I was trying to make a change in my own heart, and I heard his screams," he says. Peterson approached Matthew, the screaming man, had a conversation with him, and asked him upfront if he could paint his portrait. "I think I saw a beauty in his struggle, the pain, and I wanted to capture that."
Such was the beginning of Faces of Santa Ana, a project that now has upwards of 30 portraits. For each portrait, Peterson sells them for $2,500 and gives 50% of the proceeds to his drawn subject and the other 50% to Faces of Santa Ana non-profit. These contributions to his subjects go to what he calls their 'love account,' where he helps them decide how to use their money. For some subjects, if their dreams are to stay in a hotel for four weeks, having not been able to for 6-7 years, then, "Boom, let's do it," Peterson says. For others, he accompanies them on a Walmart shopping spree.
Matthew, his first painted subject, was a musician and had always wanted to record music. Peterson had a friend with a studio, booked Matthew some time, and let the man record an album he wrote over ten years ago. In addition to the proceeds from selling Matthew's portrait, Peterson gave Matthew the money he made from his recorded CD. For another client, named Bo, Peterson got him a train ticket and booked him a hotel in Missouri to see his seven-year-old daughter, whom Bo hadn't seen in a long time.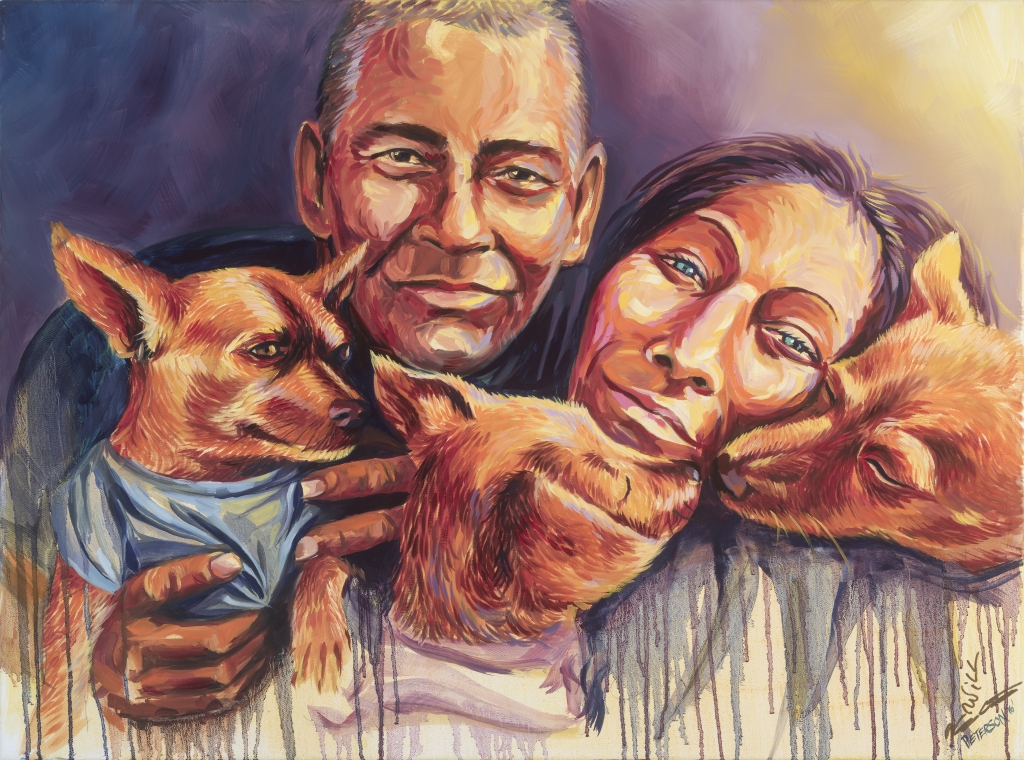 The money is a means to building a relationship with his subjects. — To get closer, as opposed to trying to fix them. Because, as he says, "Their whole life they've probably been a project to someone." Peterson views his subjects 100% neutrally, and offers up help when needed or wanted, but opts to establish a lasting relationship with each of his clients so they always have an emotional outlet. - Before Peterson let us into his studio, he had been talking to a previous client of his who had been struggling.
"My motivation, and my team, and my wife, our motivation is not to help the homeless, but to love the homeless," Peterson says. He and his wife stumbled upon this idea in the early stages of Faces of Santa Ana after a client of theirs, who had an intense bowel infection the last time they saw him, may have died. "If this man died today, would it have been better if he died having had two people trying to fix him, or two people just loving him?" he asks. And so began the motivation to view him and his other clients in the same light, with no regard to superiority, or looking down upon, in order to "walk down life together."
With this endeavor, Peterson has also experienced personal growth. The most revealing thing that's come out of it is his capacity for judgement. "Most people would think 'oh, this guy is painting the homeless, there's not a judgmental bone in his body,' but what I found is, judgement is sneaky," he says, revealing that at times he's had judgmental thoughts towards his clients. But now he's, "looking for opportunities to surrender. To let die whatever judgement, or anything that's in my heart, that shouldn't be there. I've been in heart-change bootcamp, for three-and-a-half years," he laughs. He relays that a change in heart requires putting oneself out there, and reaching out to one's neighbor, as Goff taught in his book.
In addition to the portraits, Faces of Santa Ana has extended its goal of dignifying and humanizing homelessness by doing murals. On the sides of the Santa Ana permanent-housing complex, The Orchard, are 18-foot murals of some of the 71 housing-residents. The murals are loud and colorful, with black stencils of human faces, giving life to what was once a dull environment. A similar project, recently completed, was of Judge Carter at the Link Shelter in Santa Ana. The massive blue and orange, 4,000 square-foot mural, features U.S. District Judge David O. Carter, who helped build the shelter, accompanied with the words 'the harder the battle, the sweeter the victory.' "It was just another way to dignify them," says Peterson. Similar projects are popping up more frequently - a project for a potential care center for the homeless is on the horizons.
Most recently, Peterson's wife, Vanessa, has started her own project within the organization called Homebless. Vanessa has a background in interior design and has decided to use that knowledge to improve the living spaces of the homeless. Homebless began at the start of 2018, and has improved the living spaces of four individuals so far. "We'd walk into a space and it would be the bare necessities, and it felt very clinical. It wasn't very stimulating for them, not very homey," Vanessa remarks on spaces before they were 'homeblessed.' For one client who checked into suicide prevention after she was housed in Long Beach, the Petersons went in and 'homeblessed' her home. They curated it to her character, with pink and girly-things, because that's what she loves. "You have no idea how much making my home like me mattered," she told them through Facebook.
A special characteristic to the Homebless project is its mass community efforts. Much of the material used in their renovations is either donated or fundraised, and people come to volunteer. "So that to us is what's so great about it; it involves so many people to make it happen," Vanessa says.
A huge boost in Peterson's project came when BBC flew out and did a story on him. The story garnered millions of views, and Peterson began receiving outreach from artists all over the country. "I want to start this in my city," they would tell him. One woman in particular, from Honolulu, drew a portrait of a homeless man in her city, sold it, and donated $500 to Faces of Santa Ana in gratitude. She's now regularly painting portraits of children in shelters. "We're starting to see artists catch this wind, like, 'I've had this gift my whole life, everyone's either told me I'm going to be a starving artist or I need to get a job. And so I've stopped creating art because I don't know what to do with it, but now I see a way to use it for good,'" Peterson says on those artists he's come to inspire.
In fact, the actual business name, non-profit name, for their organization is Faces of Mankind. From the get-go, Peterson had a vision of having Face of New York, Faces of Dallas, Faces of Miami, …etc. to all become part of this Faces of Mankind. It's a daunting effort, but with the love and care Peterson puts into his own project, it seems highly possible. There's an inspiring pragmatism that Peterson gives off, and it's sure to rub off on others.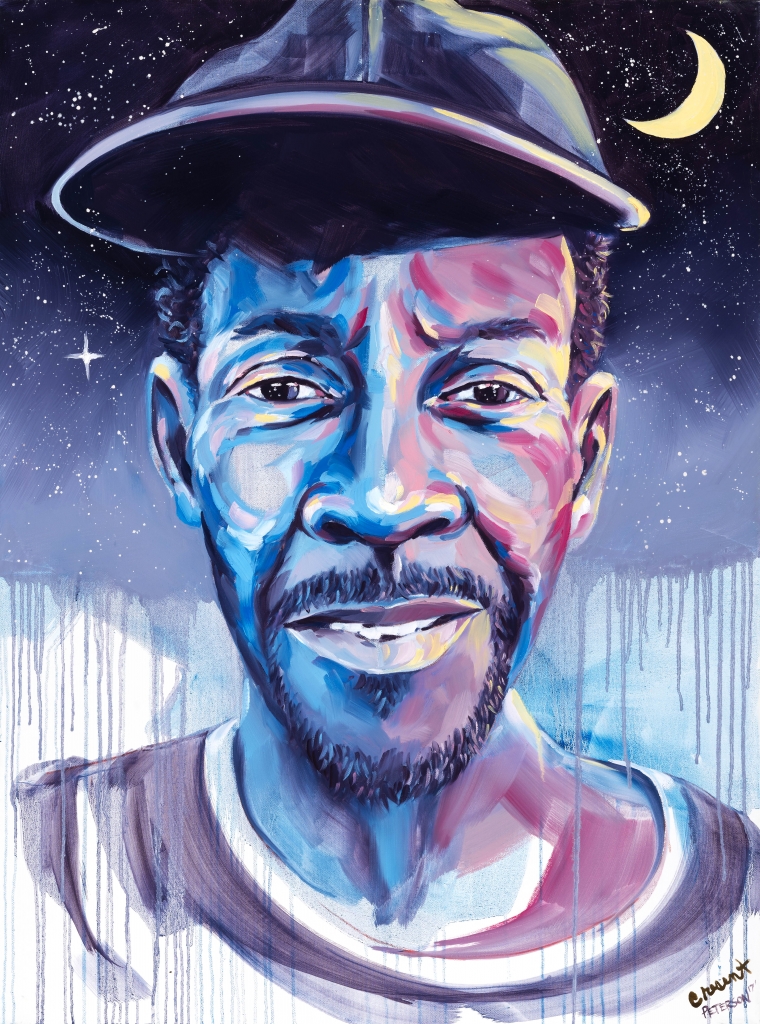 Peterson was also featured in OC Register's, '100 Most Influential People of Orange County.' Surprisingly, Peterson didn't know he was on the list until a week after it was published. "I'm all for being an influencer, as long as I'm influencing people to do the right thing, the different thing, the radical thing, the challenging thing," he says.
In Peterson's first year of college, he had a particularly special relationship with his art teacher Lane Cooper. He painted realistically originally, making sure every detail was perfect. But one day while painting a live figure, Cooper approached him and asked, "Can I try something on your canvas?" She mixed up a large glob of orange paint, took a brush, and painted over the entire thing. The class was shocked. "Now start over, and paint faster," she told him. Peterson told this story as he quickly painted the portrait of Jonathan Pope. "That's where this style comes from — a teacher that saw something that I couldn't see," he says.
When Peterson chose to not pursue the fine arts, Cooper was devastated. "Your son is making the worst decision of his life. He's a painter, I'm a painting teacher. I know a painter when I see one," she told Peterson's parents in the school's office. She looked him in the eye and told him, "It's okay, you're never too old to be a painter. You'll be back." The words gripped his soul, he says, and, in an almost prophetic manner, he did come back. While telling this story at an alumni college graduation, an audience member stood up, and it was none other than Lane Cooper. "She came up crying like a baby, just shaking, and weeping, and she's just like 'you have no idea how happy I am,'" Peterson says, believing she doesn't realize how much her words affected him. "She was wrecked, it was really good."
For the future of Faces of Santa Ana, Peterson questions if art historians would recognize this art form as its own specific niche. His vision is for it to be viewed "when art met the world and it became art as a means for loving people." It would be an art movement where artists shed light on those that are invisible. This movement even has a term, coined by his wife Vanessa —'roilism' — named after a Biblical story where a woman named Hagar, who's experiencing turmoil, calls to God and calls him 'El Roi' — the God who sees me. "The art that sees you. The art that shows how God sees you. The art that shows who you are created to be," he says. While painting those down-and-out is not new, Peterson's method is different. Instead of focusing on the dirt, grime, and craters, of a person, he focuses on humanizing and dignifying them.
For a more immediate future, in 2019 Peterson sees himself beginning a YouTube channel of him painting and teaching people how to paint. "Sort of like a Bob Ross," he says, laughing. "I want to show what my heart's position is when I paint. How to interface with clients, overcome fear, breakthrough doubting yourself, all these things. All these things I had to walk through. We want to give that away to the world."
Walking past Peterson's studio, down a flight of stairs were bright, colorful portraits that lined the walls. A portrait of a man with a long scraggly grey beard, glasses, and a tilted hat, looked at me with winsome eyes — this was Stevie, who specializes in custom-made bikes, but has been down-and-out since he lost his job from a crane yard in 2008. Then there was Ruby, with a wide smile blazoned by yellow tints and a pink floral background, who has a passion for singing. And a portrait of Kay and Marsha with their two-year-old daughter Brooklyn, embracing each other lovingly, with genial smiles. These, and many more, are some of the faces from Santa Ana one could see, just from walking down Peterson's studio stairs.
Peterson reiterated multiple times while we were speaking, "Whatever canvas you guys are carrying, metaphorically speaking, that thing you know you're supposed to do, tackle it. Attack it."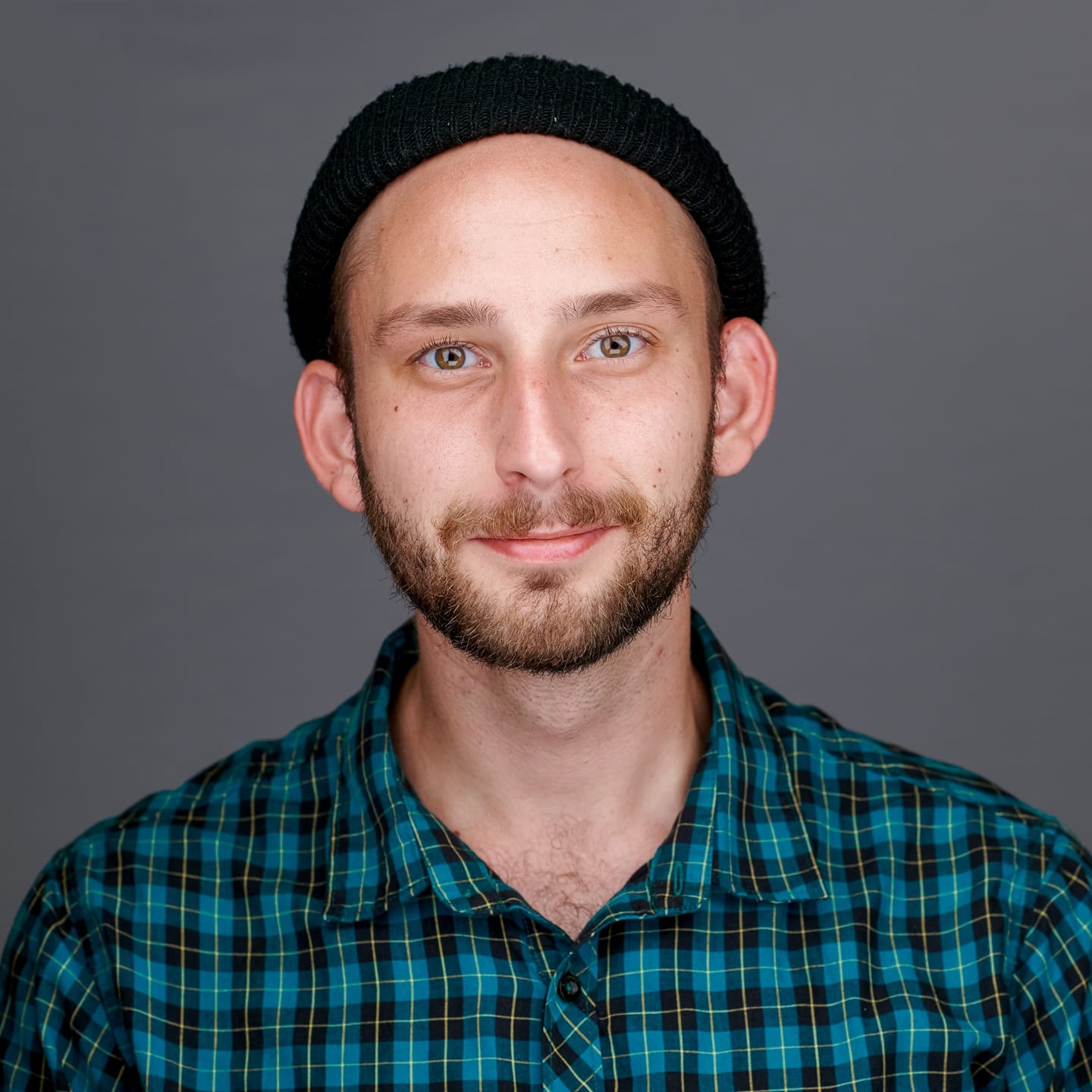 Reed Grable is a third year Literary Journalism major. Outside of InSight Magazine, he also contributes to KUCI News - reporting on local Orange County news. When he's not writing, he's usually listening to music or going to concerts - punk is his favorite genre.
He can be contacted by Instagram at @reedle94.