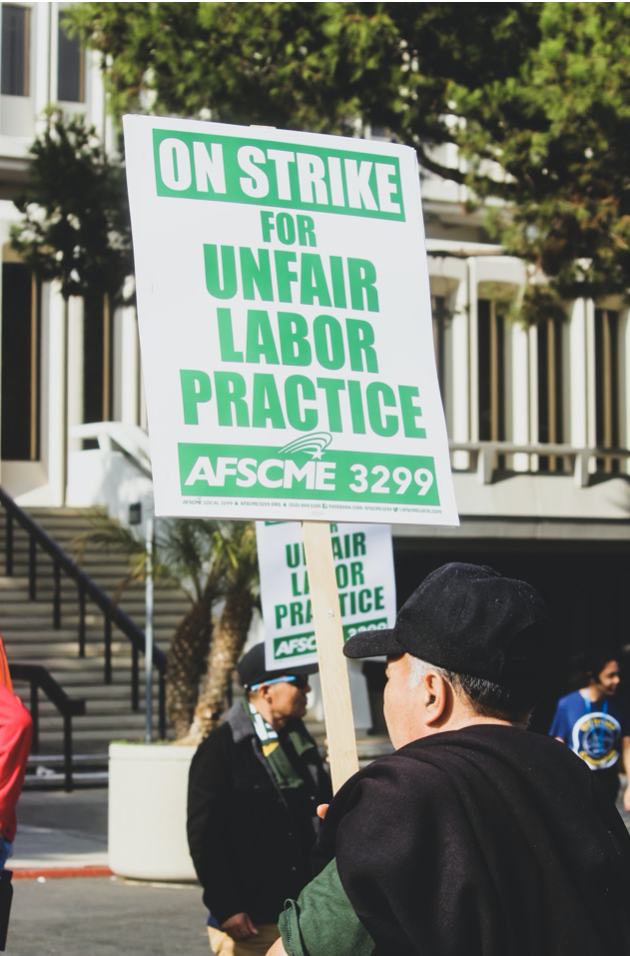 By Óscar Fernando García
This article was supposed to be about the contract win between American Federation of State, County and Municipal employees (AFSCME), the union that represents the 16,000 patient care and 10,000 service workers employed by the University of California and the UC system. But writing this piece, I felt uncomfortable writing a story about the union's new contract at the expense of ignoring COVID-19's impact on the union. Do I write two separate pieces? Or is there a way to do justice to my original piece without pretending that COVID-19 doesn't exist for 1,300 words?
Remember a time before COVID-19 pushed you off the UC Irvine campus and into your homes. If you were one of the thousands of students, staff, or other diners who visited the Anteatery, then you've probably seen her there either baking desserts or cooking pizzas. Just on the other side of a sneeze guard, Antonia usually goes unnoticed as she fills the appetite of hungry stranger, after hungry stranger, after hungry stranger.
Somehow over the noise of hundreds of conversations, the clank of tableware, and Harry Style's "Adore You," early last month Antonia and I spoke about the union's contract win from less than an arm's length away. In an article published Jan. 28, the UC Office of the President announced a tentative agreement with AFSCME for a new four-year contract with health and service workers. As an employee at the Anteatery, I wanted to know what that tentative agreement meant for my coworkers and other union members.
"I've gone to every single strike that I've had to go to ever since I started working here seven years ago," said Antonia, "I feel comfortable right now because finally we don't have to go through the whole striking thing for now while the contract is on." AFSCME 3299 is the division of the union that specifically represents UC health and service workers and whose legacy of activism began with UC Berkeley workers in 1948.
The agreement protects health and service workers from out-sourcing, which hands over what would normally be a UC worker's work to a subcontracted company. While she didn't have any personal worries of out-sourcing, Antonia still shared her concern for other service workers like her mom, "Where my mom works, they have brought people from a different company to come in and clean. What she does. And she feels that it's unfair."
Out-sourcing runs the risk of eventually displacing UC employees like Antonia's mom, but out-sourcing is problematic for both parties. A report from the California State Auditor found that low-wage service contract workers receive about $3.86 less per-hour on average than UC contract employees.
The contract comes after 20 months of strenuous negotiations with the UC. In the aforementioned article, UC's executive director of labor relations, Peter Chester, was quoted saying that the UC was "pleased" to have addressed mutual concerns over the needs of union members.
The fight for greater job security, however, came after eight of the ten UC chancellors received pay increases in July 2017. While a UC report titled Comparative Salaries for Research University Leaders stressed that despite the pay increase, UC chancellors continue to be some of the lowest-paid university leaders. That sort of rhetoric shows that the UC prioritized the salaries of their six-figure earning chancellors over the demands of their health and service workers.
Since I began working in the Anteatery in Nov. 2017, I've been able to meet my coworkers beyond just their nametags. They live their own lives, they have their own worries, they have their own needs, yet they show up to work every day ready to serve other people.
Though the contract is settled for the next four years, Antonia and other union members relished in the security of the contract win, "It's a relief that we have a contract for now. Meanwhile the contract is on. It's a relief that we have a contract and that we don't have to worry about that because it was an ongoing three years of us having to go to strikes. I feel comfortable with what I'm doing at work and my benefits."
Then COVID-19 hit.
As of April 16, 2020, there have been 27,528 positive cases and 985 deaths in California, according to California's Department of Public Health. The state health department's website lists safety precautions like social distancing that people should take to protect from the virus. In a moment of fear and uncertainty about COVID-19, social distancing has become the new normal.
Social distancing forced many non-essential businesses to close and others to reassess their services. But as we're told to shelter in home and avoid non-essential person-to-person interactions, the drastic change has taken its toll on working class families who were struggling before COVID-19.
After the Anteatery closed its doors due to UCI Dining and Hospitality's COVID-19 response, Antonia was given the opportunity to work at the company's other dining commons, Brandywine, or receive paid sick leave until June 30. Only four months away from giving birth, which places her in the high-risk category, Antonia takes precaution to protect her high-risk parents also, "I don't do anything. I only go to work." Antonia knows that she can stay home and collect paid sick leave, but over the phone she explained that wasn't an option, "If they're going to give me work, I'm going to work."
But Antonia isn't alone in her decision. "What they're going through defies words, but I've come up with a few. Hero. Courage. Determination," said AFSCME 3299's Communications Director Todd Stenhouse about UC health and service workers. Talking about the heightened concern for hospital employees, Todd added, "People think about doctors and nurses. What about the guy that changes sheets?" When I asked Todd if the contract had revealed anything in light of COVID-19, he responded that AFSCME 3299's determined efforts for the safety and economic security of union members lessens the blow from COVID-19.
Living during the emergence of a pandemic suddenly forces us to consider the people who were "essential" all along. Who protects us when we're scared? Who takes care of us when we're sick? Who feeds us when we're hungry? Who? Whether it's Dr. Faucci or Antonia, AFSCME 3299's contract and COVID-19 both lead us to the realization that the time to return the care to our essential workers is long overdue.
Óscar García studies English and Spanish literature at UC Irvine. He is a co-editor and content writer for InSight Magazine. Óscar values telling stories of poverty as the first step in addressing this overwhelming issue. During his free-time, Óscar can be seen face-planted into a sappy love story. He can be reached at [email protected]